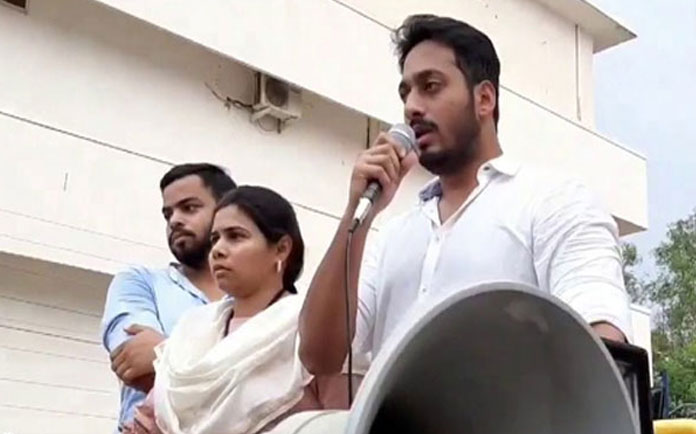 Police hunt for A3 Bhargav Ram who is absconding
Akhilapriya's lawyers file bail plea in Secunderabad court
Land dispute of over 30 acres at Hafeezpet led to kidnap, says police
Hyderabad: Former Minister and TDP leader Bhuma Akhilapriya was arrested by Hyderabad police on Wednesday morning in connection with the kidnap case of former hockey player, Praveen and his brothers. The main reason for the kidnap is the 50 acres land located at Hafeezpet in survey no. 80, worth of hundreds of crores of rupees.
Police filed IPC case naming A1 A.V.Subba Reddy, A 2-Bhuma Akhilapriya and A3-Bhargav Ram. Subba Reddy was let out under section 49 IRC and was given notice to attend for information whenever necessary. Bhargav Ram, A 3, is absconding from Wednesday and police search is going on for him. As per police sources, Bhargav Ram fled to Bengaluru on Tuesday night. A team of Hyderabad police left for Bangalore to take him into custody.
Police say all details will come out once Bhargav Ram is taken into custody. Bhuma Akhilapriya's lawyers filed a bail plea in Secunderabad Judge Court claiming that her health is not well. This is not the first case against Bhargav Ram, many are pending in Hyderabad and Allagada PS related to kidnap, land grabbing and settlements.
A.V. Subba Reddy who was termed as A-1 said that he has nothing to do with the kidnap case. "Bhuma Akhilapriya gave supari of Rs. 50 lakhs to kill me, How can i join hands with her in kidnapping?" Subba Reddy questioned.
Now the case is taking turns and twists as Kidnapped persons are nephews of Telangana CM K. Chandrasekhar Rao (KCR). Recently High Court of Telangana delivered a judgement on a dispute regarding Hafeezpet survey No. 80 which is said to be a landmark one, as it gave relief to thousands of property owners. The judgement says the land does not belong to the government and directed authorities to mutate lands immediately in favour of individuals or companies and allow for registrations. If any further doubts arise, they are permitted to conduct surveys in Survey No. 80 according to the wish of property owners, judgement further said.
Courtesy : https://www.primepost.in/bowenpally-kidnap-case-where-is-akhilapriyas-husband-bhargav-ram/
(This Article has been reposted with permission from Primepost)