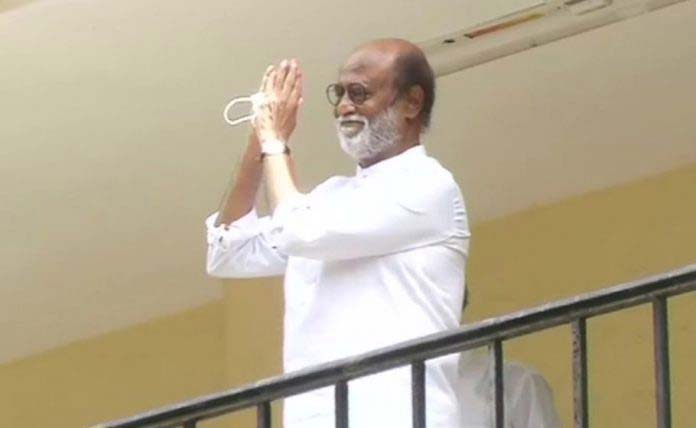 To contest 2021 assembly elections
Will announce party details on Dec 31
New Year gift for us, say fans
Chennai: 'Thaliva' Rajinikant came out on Thursday with a sensational announcement on his political entry . He said his party will contest in 2021 assembly elections and party will be launched in January with full details to be officially announced on Dec 31st. He came out on Twitter which reads, "With great support from people, in the upcoming assembly elections, an honest, righteous, transparent, corruption free, casteless, secular, and spiritual politics will be launched in Tamil Nadu for sure, wonder…..Miracle….will happen," thus keeping an end to all speculations which have been making rounds for almost two decades.
This tweet was made after Superstar had a meeting with 32 district secretaries of RMM three days ago. Decision on political plunge will be taken and will be announced soon, Rajini said after the meet. 'You continue your efforts to strengthen the party, RMM, until my decision is out,' actor said at the meet.
Call from head office to all district heads asking the office bearers to assemble at the venue on raised hopes among Rajini fans. RMM secretaries urged him to enter politics soon to save TN but will abide by his decision, the district leaders told Rajinikanth during the meet.
After returning to Poes garden, Rajinikanth said that he will take decision soon and will come up' today or tomorrow' with a press release. The much anticipated meeting created a storm in political circles of Tamil Nadu. Now the final decision from Rajinikanth left fans in 'kush' and celebrations can be seen all over TN with fireworks and rallies in support of Rajinikanth.
If he does, it will be a record
TN Assembly elections are expected in April-May 2021. It means only 4 months left for the actor to campaign and make party win in TN. Earlier it was made possible only for Nandamuri Taraka Rama Rao( late NTR) in the united Andhra Pradesh to make it within nine months of launching the Telugu Desam Party,(TDP). If Rajinikanth can do it, he will be first to do so in four month, breaking previous record.
Will TN voters accept film stars in politics?
TN is well known for film actors-turned-politicians and were successful in attaining CM's post. At the same time, people also rejected a few actors with their harsh decisions. Late MGR and Jayalalitha were successful in becoming CM's, but Vijayakanth, failed, and Kamal Hassan is trying his luck. He is also contesting the 2021 assembly elections.
It is well known that Rajinikanth is enjoying huge fans following in TN. But politics are separate when compared to movies. Age factor (70) will be a big question mark for Rajini fans to make their leader appear aggressive during poll campaign. In the first half of the year, Rajini came up with a statement that he will lead the party as CEO, but not as contender for CM's post. This option was not accepted by his fans at that time disappointing Rajini. He felt that an educated person or a person with farsightedness is best suited as the CM's candidate rather than him.
Coincidence or lucky month
Rajinikanth's birthday is on Dec 12th and his fans say December month is luck for him and important decisions will be announced in the same month. For example, in 2017 exactly he came up with a statement that he will come up with political party and contest in all 234 seats, as a new year gift. But there was just discussion on formation of political party with Rajini Makkal Mandram (RMM) members. He did not contest in those elections.
Rajinikanth, will he extend support or stay alone
Rajinikanth, along with flicks, became a hot topic in political circles too from 1996. Speculations rose when he said, "Even god can't save TN if Jayalalitha returns to power". That statement made DMK-TMC alliance come into power. For his fans, his statement is enough whom to vote. Later, he looked to be attracted towards saffron ideology and came up with statements in support to it, like Ram Sethu, interlinking of rivers to solve water crisis and publicly announced that he will vote for AIADMK-BJP alliance in 2004, after that he maintained distance from BJP up to 2014.There were speculations that Rajini will join hands with Kamala Hasssan , but as per now things look to be different and may contest alone, leaving BJP and MNM. His tweet, "Let's change things for ever, now or never" is making rounds in TN political circles right now. Surely, if Rajini stands by his Tweet, 2021 TN will surely witness a political storm.
Courtesy : https://www.primepost.in/rajini-to-contest-2021-polls-to-announce-details-on-dec-31/
(This Article has been reposted with permission from Primepost)