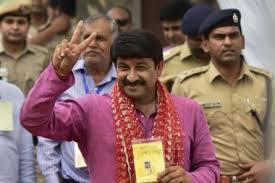 Among BJP's many victories in the 2019 LokSabha elections, one was it retaining its "perfect 7" score in Delhi. Manoj Tiwari, party's Delhi chief and also one of the winning candidates, said the next stop will be the assembly elections in 2020.
Confident of defeating Delhi CM and AAP leader, Arvind Kejriwal, Tiwari claimed that the party will win all seats in the assembly elections which dominates the current 70-seat Delhi assembly with 67 members.
Tiwari won his seat by defeating Sheila Dixit, a three-time former CM, in the North East Delhi constituency. Dikshit was considered as one of her party's strong candidates in Delhi but Tiwari disagreed saying, "Rahul Gandhi took revenge against Sheila Dikshit by fielding her against me. She is 78 years old. She has become old now. Rahul Gandhi was angry with her and that is why this was done to her."
The saffron party won a remarkable 303 seats in the election which is reportedly a better performance than 2014. Along with its allies, the party has won 351 seats.
Congress which failed to go beyond 52 seats is now facing a threat to its state governments in Karnataka and Madhya Pradesh.
In Delhi, CM Kejriwal, who had been complacent about AAP's grip in Delhi has much on his plate to worry about as it has slipped to number three means a big possibility it may not perform as well as it did in 2015.