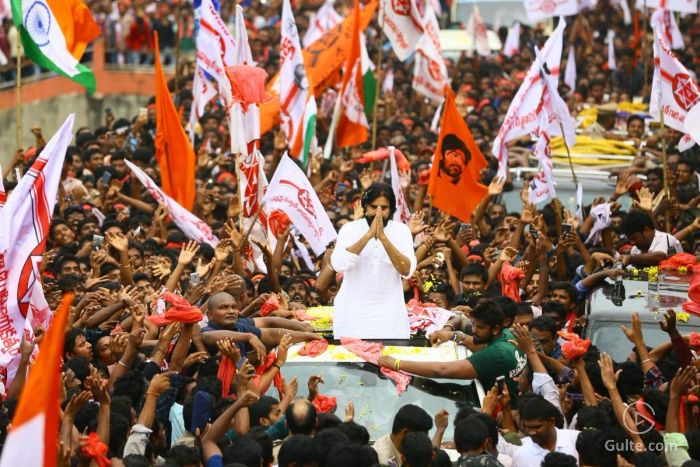 Jana Sena Party chief Pawan Kalyan has forwarded his application for the allotment of an MLA ticket in the wake of coming elections in Andhra Pradesh. The ticket allocation is done through the Screening Committee in the Jana Sena Party. The screening committee will finalize the decisions within the party. Jana Sena Party Political Advisory Committee (PAC) is in charge of allocating tickets to the proper candidates and will finalise select the suitable contestant.
Pawan Kalyan is focussing on Telangana and AP committees. Pawan Kalyan also reminded that the selection committee for Telangana parliamentary seats has been completed. The Committee has announced five seats in Telangana state namely Nagar Kurnool, Mahaboobnagar, Hyderabad, Karimnagar, and Karimnagar.
The Screening Committee has approved a specific format for applications from the hopeful candidates for the Janasena party candidates for the assembly and Lok Sabha seats in the general elections. The members f the committee met at the party office in Vijayawada, chaired by party president Pawan Kalyan on Tuesday. The application process, the observation process, and all the necessary things are discussed in the meeting which was directed by the screening committee to look into the applications.
Pawan Kalyan reiterated that "Jana Sena party doesn't give any value to the financial background of candidates and only to commitment and moral values. The five-member screening committee will scrutinize applications. I ask all the aspirants to submit their applications to the five-member screening committee only," said Pawan Kalyan.
Jana Sena party leaders Hariprasad, Riyaz Khan, Mahender Reddy, and Madasu Gangaram are members of the screening committee, which will submit the list of probable to Jana Sena chief Pawan Kalyan soon.
Gangadharam of the screening committee said, "Pawan has suggested some guidelines for the recruitment of candidates who want to contest the assembly and Lok Sabha elections. These candidates will be selected in accordance with those guidelines. Pawan's trust in them will keep the functioning of party smooth. From Tuesday, February 12, biodata and applications are going to be taken."