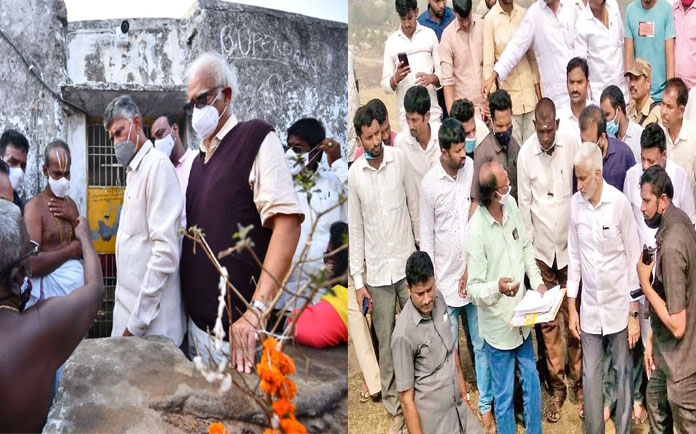 Idols desecration pitches heat in political circles
Unrest continues as all parties trying to encash
Amaravati: AP politics took ugly turn for a few months after religious issues and temples occupied centre stage. Main rivals, YCP and TDP are competing with each other in issuing controversial statements. Vandalisation of lord Rama idols at Ramatheertham of Vizianagaram district created tension across the State.
It is to malign government and the ruling YCP:
MP Vijayasai reddy felt that it is a planned one to malign Jagan's fame and name in the public. Vijay Sai who visited Ramatheertham on Saturday pointed out that TDP is behind the attack. Former Union Minister Ashok Gajapathi Raju was Chairman of Temple Board when the cident took place,. He failed in controlling the damage, Vijay Sai said. Ashok Gajapathi Raju was removed as Temple Chairman after the incident took place. Ashok was removed as Chairman of Sri Pydithalli Ammavari Devasthanam and of another temple in East Godavari in Mandapalli village. All three temples were under Ashok Gajapathi Raju's family members from his ancestor's time. Govt issued a memo to Raju stating that he failed to discharge his legitimate duties and address the issues relating to the safety aspects of the temple and failed to prevent the vandalisation of statue at Ramatheertham Temple.
TDP Condemns:
Nara Lokesh objected to the move of Ashok's dismissal as Chairman by Govt. He said YCP failed to protect temples in the state. Meanwhile Chandrababu Naidu cornered CM Jagan by saying that he has not opened mouth when attacks took on priests, idols and temples. He visited Ramatheertham on Saturday and took the chance of addressing the public at the premises and came down strongly on YCP. 'Why did Viyay Sai come now to visit the place when I am coming? Is it not politics?' Naidu questioned.
BJP and Jana Sena of late, joined the bangwagon and are planning to hold a public meeting and rally at Vizianagarram.
Actor Suman supports Jagan:
Noted actor Suman suspected that there might be conspiracy involved to tarnish CM Jagan's name and said the possibility of opposition party's role in vandalisation of lord idols cannot be ruled out. Suman said that setting up CCTV camera surveillance at all temples and holy places may prevent untoward incidents. God will punish those who committed such type of crimes like attacking holy places and lords' idols, Suman added.
Courtesy : https://www.primepost.in/religion-now-central-issue-in-ap-politics/
(This Article has been reposted with permission from Primepost)