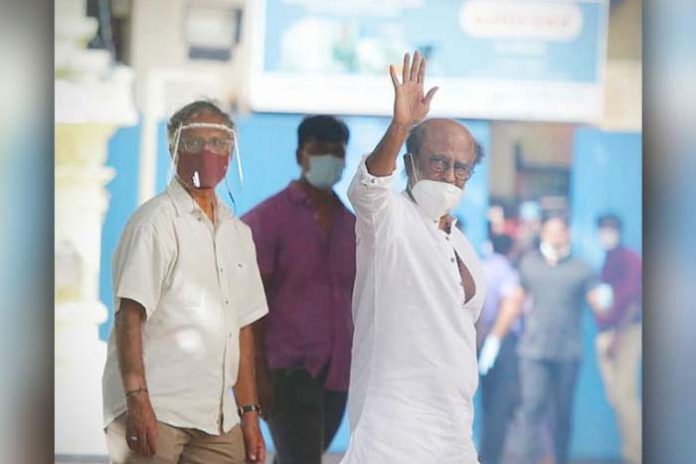 Rajinikanth's meet with district secretaries ends
Continue your efforts to strengthen RMM, directs actor-turned-politician
Chennai: Actor-turned-politician, Rajinikanth, kept his decision under suspense about political entry even after meeting with party's district secretaries in Chennai on Monday. Decision on political plunge will be taken and will be announced soon, Rajini said after the meet. You continue your efforts to strengthen party, RMM, until my decision is out, actor said in the meet.
Call from head office to all district heads asking the office bearers to assemble at the venue on Monday raised hopes among Rajini fans.RMM secretaries urged him to enter politics soon to save TN but will abide by his decision, the district leaders told Rajinikanth during meet.
After returning to Poes garden, Rajinikanth said that he will take decision soon and will come up today or tomorrow with a press release. The much anticipated meeting created a storm in political circles of Tamil Nadu. Few analysts felt that Rajini may extend support to the saffron party, some felt that he may go for a tie up with kamal Hassan's party. He would most probably clear the air about his political entry. Keeping aside all speculations, Rajinikanth once again postponed his final decision on political plunge.
In the first half of the year, Rajini came up with a statement that he will lead the party as CEO, but not as contender for CM's post. This option was not accepted by his fans at that time disappointing Rajini. He felt that an educated or a person with farsightedness is best suitable as the CM's candidate rather than him.
Speculations about Rajinikanth's entry into politics which have been making rounds for more than years are back in social media and political circles with greater intensity. A letter was out recently quoting that there will be much delay in his entry, which may happen after 2021 assembly elections. This created 'hungama' with tweets from his fans across globe which read: "Please come Thaliva, show some light to TN and give some hope". The main reason for the delay in entry, according to the letter, is the pandemic which is shaking TN and for a 70-year-old (his fans won't accept the age) man it might be a great risk to campaign in public with rallies.
Leaked letter makes rounds
On one Tuesday, a letter was leaked with the hero's statement which stated that Rajini can't participate in 2021 assembly elections and his party will not contest. It cited the superstar's health condition as the main reason for it and if Covid pandemic cases come down, he may give official statement by December. This draft copy was published in famous Tamil website and was circulated in superstar's close circles. Fans started tweeting saying 'Rajini will take correct decision at correct time', in cine style.
There were rumours that Rajini will join hands with BJP in 2021 elections. Even Central BJP leaders, including Minister of Home Amit Shah, said that they are looking at Rajini in TN as an alliance partner. This made media and his fans' speculations about the announcement of launching of the party in October and may start campaign soon.
Can't campaign in traditional mode
The draft letter said, "Since the campaign in traditional mode is not possible, the alternative now would be to carry out my political campaign through television, internet and social media. But I doubt if there would be a popular uprising and support among the public for such an approach. And if I chose to launch party in a traditional way-through public meetings- and my health got affected midway, it could disrupt all the plans. And my main concern is about health of public who would attend such rallies. I would plan to announce name and flag on October 2." Later another statement released said there will be further delay in entry and it may not be possible before 2021 elections. These types of speculations became common in the case of Rajini from day one when he had fans meet in 2017. Until now, Rajini never opened his mouth about his party but fans and media have been pushing him forward with a call 'Save TN' after they felt a political vacuum created after Jayalalitha's demise has been waiting to be filled by the hero.
Rajinikanth clarifies
Thaliva came up with clarification on the leaked letter. He said that his health condition is not good and doctors advised him not to involve in active politics. He also clarified that the letter circulating in social media was not written by him. He also said that he will confirm his stand on politics after discussing with 'Rajini People's Forum,' which was floated by his fans as a political vehicle.
Rajinikanth who had kidney surgery nine years ago is now 70 and the question being asked by his well wishers other than fans: "Is this right time for entry into politics?" Political analysts felt that it would be better for Rajini not to take the plunge at this age. "But still twitter trends show the actor has huge following in public and the leaked letter is nothing but kite flying just to know the pulse of the people," an analyst said.
Courtesy : https://www.primepost.in/rajinikanth-decision-soon-on-political-entry/
(This Article has been reposted with permission from Primepost)